'Band of Brothers'

Click here to return to 101st Airborne Division Page
In 1992 American author Stephen Ambrose wrote a book entitled Band of Brothers. This told the story of E Company, 506th Parachute Infantry Regiment,101st Airborne Division from its inception in the USA during 1942 until the war's end.
Steven Spielberg and Tom Hanks were so inspired by Band of Brothers that they jointly produced a 10 part mini-series based on the book. Most of the series was filmed on location in England with the majority of the production taking place on an old disused airfield at Hatfield in Hertfordshire.
As E Company were camped in the village of Aldbourne (three miles north of Ramsbury), the production company bought several copies of my book 'Ramsbury at War'.
Consequently, I was invited on several occasions to watch filming in progress and reproduced below are a number of pictures taken during my visits.
Below: A few items of Band of Brothers memorabilia consisting of original film props and promotional material.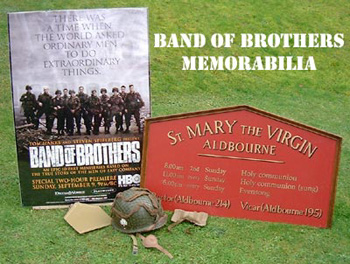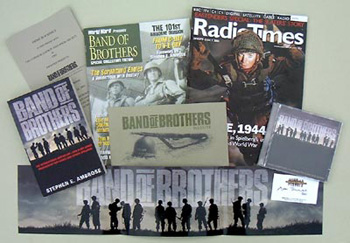 Below left: As is traditional in the world of big budget TV and film productions, the cast and crew are given items of clothing emblazoned with the motif of the show they're working on. 'Band of Brothers' was no exception! This display includes a cast and crew cap, jacket and T shirt. Arri Media, the name on the front of the shirt, was the company that supplied all the camera equipment for the series. The final item in this group is an original 'Band of Brothers'clapperboard which, in my view, is one of the most symbolic and emblematic mementoes that one can have in a collection of film memorabilia. Below right: This genuine 'Band of Brothers' prop was worn in episode ten by Michael Cudlitz who played Sgt.'Bull' Randleman. The cap and badge, both made in the USA, were copied from original WW2 examples. Only the main characters had specially made caps the remainder were modified post-war Dutch army.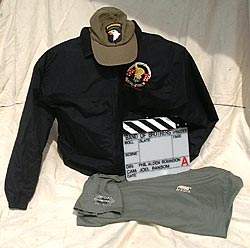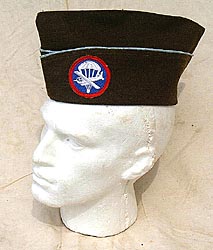 Below left: The art department made six full-size C-47 cut-outs as set background dressing. All were beautifully painted by scenic artist James Gemmill who recently told me that it took him one and a half days to complete each example. One of these has been preserved and a part of it is currently on display in the Ridgeway Military and Aviation Research Group's (RMARG) museum at RAF Welford. Below right: To mark the 60th anniversary of the official opening of RAF Welford RMARG opened the doors to its museum. A special 'How they made Band of Brothers' display was laid out in front of the C-47 cut-out. Mr Alan Tomkins, who worked as senior art director on the series, was invited along to the event and is seen surrounded by Band of Brothers memorabilia.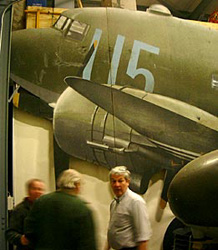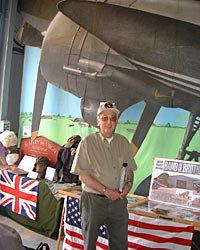 Below: Membury hangar 'Band of Brothers' style and the real thing.
(Rest cursor on any of the below pictures to display captions).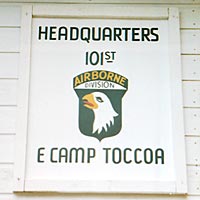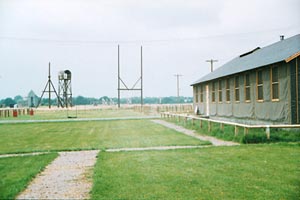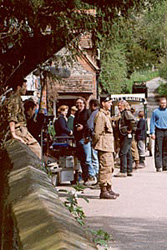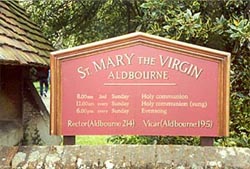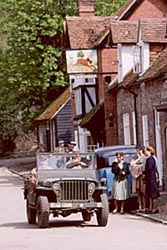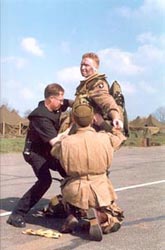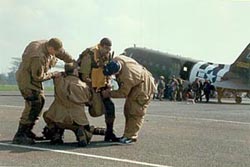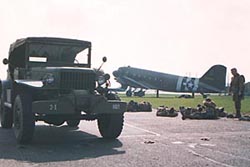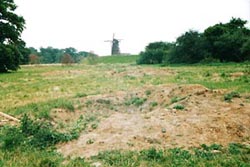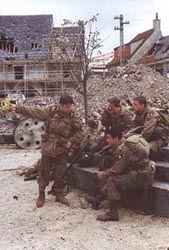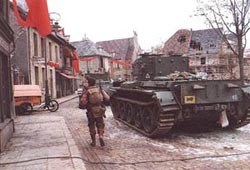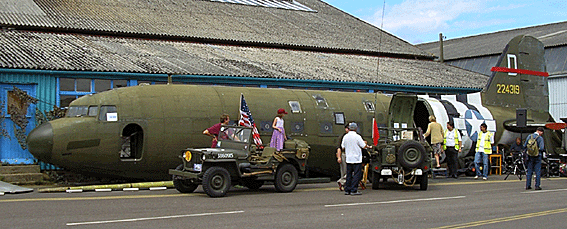 Above and below: The fuselage of Douglas C-47 Dakota G-AMSN/44-77047/KN673 at the Redhill Airshow on August 15th 2004. This fuselage was used as a prop in Band of Brothers and appears in episodes one and two. It was mounted on a cradle supported by hydraulic rams and when activated the movement the rams generated gave the impression that the plane was being tossed about in turbulent air.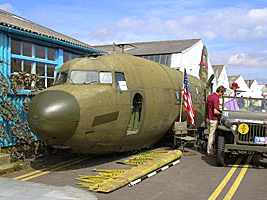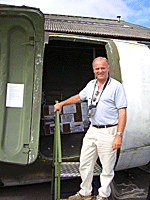 'E' Company veterans (and others) return to England
Below left: 'Wild' Bill Guarnere with a group of 506th re-enactors at Aldbourne on 14th September 2002. Below right: During 2003 Chris Anderson (editor of WWII Magazine) brought a party of Band of Brothers enthusiasts over to Europe to follow in 'E' Companies footsteps. The group was accompanied by three 506th veterans. From left to right: Earl 'One Lung' McClung, Paul 'Hayseed' Rogers (both 'E' Company) and Jack Agnew (Demolition Platoon, 506th Regimental HQ Company)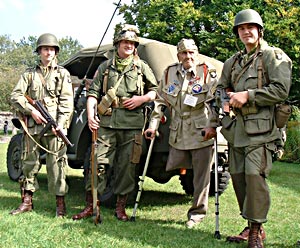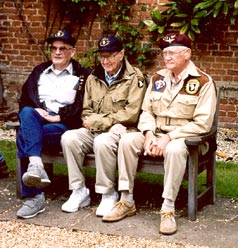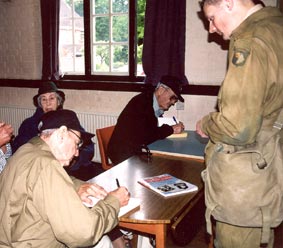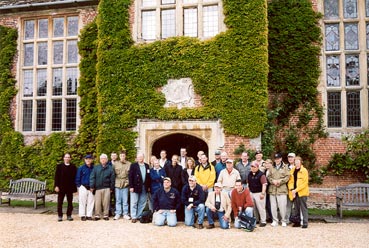 Above left: Rogers and McClung sign autographs for re-enactors at the village hall in Aldbourne.
Above right: Earlier that day the party visited Littlecote House. This building served as 506th Regimental HQ during WWII.

Below right: Forest 'Goody' Guth and Amos 'Buck' Taylor stand near the site of camp Aldbourne during a nostalgic return to the area in September 2004.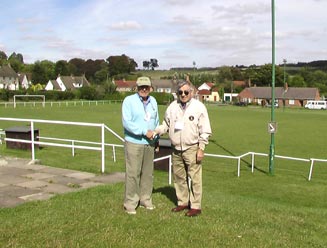 Before receiving his battlefield commission and joining 'E' Company, Ed Shames had been a Staff Sergeant with HQ Company, 3rd Battalion, 506th PIR. Prior to D-Day he was quartered with the Blain family at No. 1 High Street, Ramsbury. Below left: Ed returned to Ramsbury in the summer of 2002 with his grandson Aaron and they are pictured, together with the webmaster, by the front door of his old billet. Below centre: He returned again in February 2004 with his granddaughter Rebecca, and on this occasion was allowed to enter the bedroom he had once shared with S/Sgt Paul Simrell. Below right: On 17th September 1944 'E' Company, together with the rest of the 506th PIR, took part in operation 'Market Garden'. 'E' Companies' departure airfield was Membury in Berkshire (now better known as service area on the M4 Motorway). Ed paid the old airfield a visit during his 2002 trip and is seen, with the webmaster, on one of its remaining runways.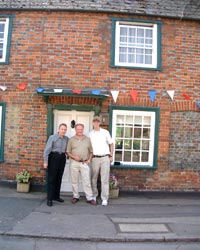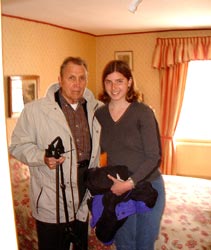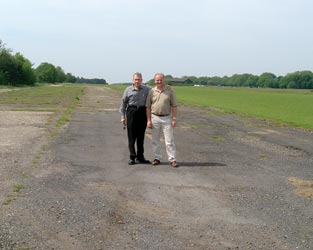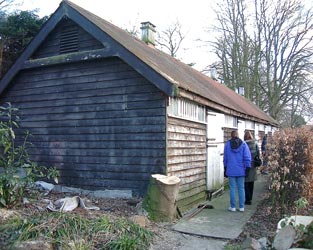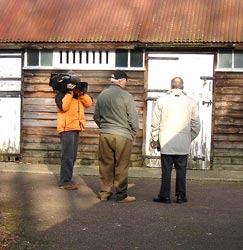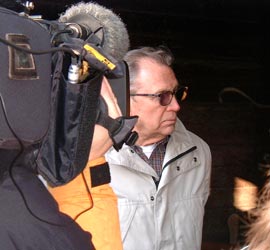 Above: During the course of his 2004 trip Ed was encouraged to visit the old stable block in Aldbourne that had once been home to 'A' and 'E' Companies, 506th PIR. There he was interviewed by a BBC film crew who were making a short documentary about the stables for the magazine programme 'Inside Out'. The documentary was broadcast throughout the BBC West region on Monday November 1st 2004.
58th, 'E' Company, 506th Parachute Infantry Regiment, Reunion
Norfolk, Virginia.
14th-17th October 2004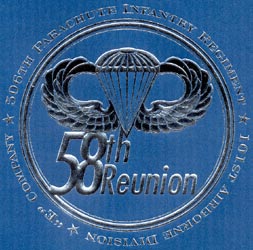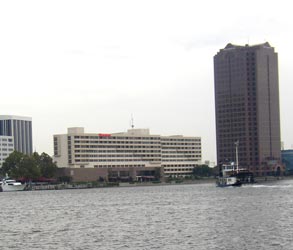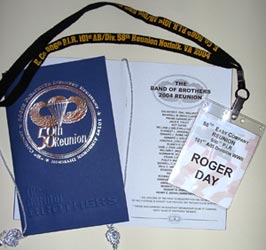 Above centre: Reunion venue - The Sheraton Hotel, Waterfront, Norfolk, VA.
The 58th 'E' Company Reunion really was an action packed event. Norfolk boasts the worlds largest naval base and on 15th October 'E' Company veterans, family and friends had a cruise on the 'Victory Rover', allowing them to view at close quarters many of the vessels in port that day.(See Below - All pictures I. Gardner)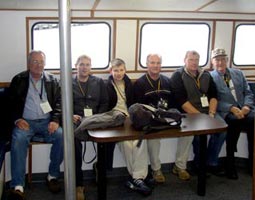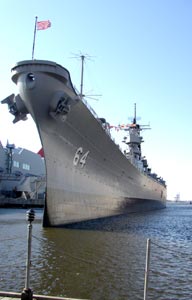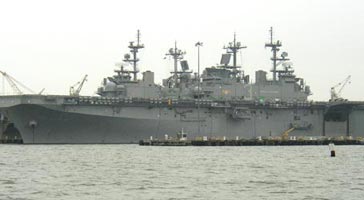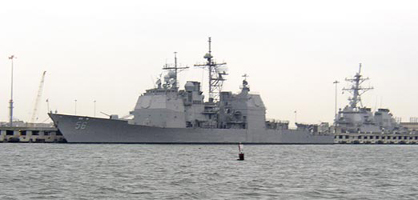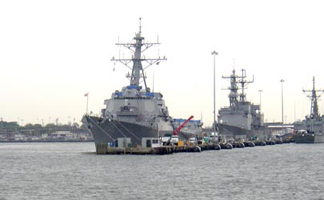 Every afternoon and evening throughout the convention the hospitality suite was open for informal meetings and discussions.
Below left and centre: Joe Beyrle II and Ian Gardner study a number of pictures of St. Come-du-Mont and the Douve Estuary in Normandy.
Below right: Renowned 101st Airborne Division historian and author Mark Bando was also a guest at the convention. He was always on hand to
offer those present advice and constructive criticism. (D. Gardner)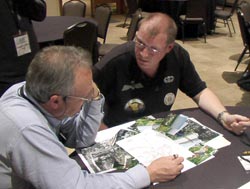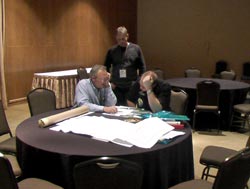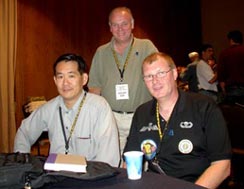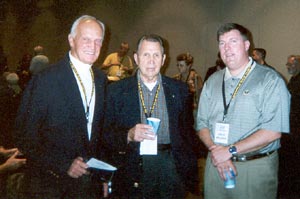 Above: The man responsible for the magnificent 58th Reunion was Ed Shames (centre) who, with help from Ida and other members of the Shames family,
put the whole thing together - Thank you Ed for giving us all a wonderful and unforgettable time and for inviting Chris and myself along - It was a real honour. (Photo: J. Beyrle II)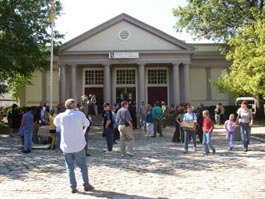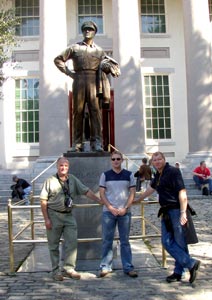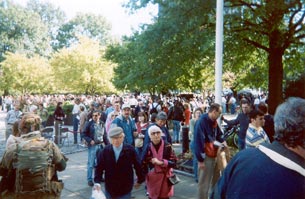 Above: A special book signing was held at the MacArthur Memorial Museum in the centre of Norfolk on 16th October. A crowd of about 2,000 people turned up in the hope of having Band of Brothers mementos autographed by the veterans present. So as not to over tire the veterans the session was allocated a time slot of two hours. Unfortunately, some of the crowd went away disappointed. (Pictures: I. Gardner and J. Beyrle II)
Below: Not all veterans attending the reunion were from 'E' Company. On the day of the book signing I met up with (on left) Stanley Branowski (HQ Company, 1st Battalion), and Joe Beyrle (I Company) near the MacArthur Memorial. Joe's holding a copy of his book 'Behind Hitler's Lines' (originally entitled 'The Simple Sounds of Freedom') now available in paperback. (J. Beyrle II)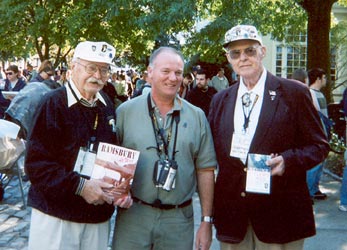 Grand Banquet
Held at The Sheraton Hotel, Norfolk, VA.
Saturday 16th October 2004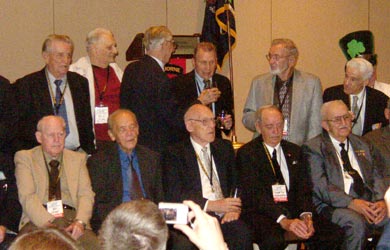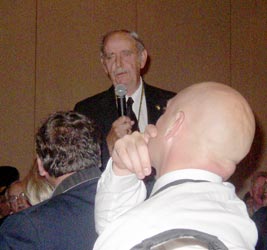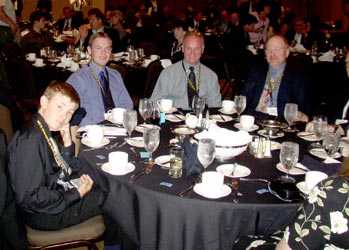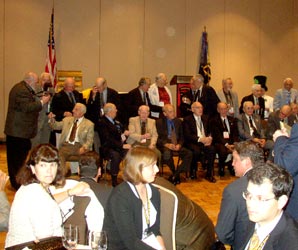 Above, clockwise from top left: Preparing for the official group picture. Darrell 'Shifty' Powers at the microphone. Invited guests enjoying
the excellent meal, and all veterans present assemble for the taking of souvenir reunion photographs. (All pictures I. Gardner)
If you want to learn more or have a story to tell then contact Roger at roger@ramsburyatwar.com
Click here to return to 101st Airborne Division Page
© Copyright 2007 Roger Day