Supermarine Spitfire Mk Vb, AD247
109th Reconnaissance Squadron, 67th Reconnaissance Group, US 8th Air Force
Marridge Hill, Ramsbury
1st December 1943

John Perry, a 2nd Lieutenant with the 67th Reconnaissance Group based at Membury, made his maiden flight in a Spitfire on 1st December 1943. It proved to be a short but very eventful trip.

At about 9:15am Lt. Perry clambered into the cockpit of Spitfire AD247 started the engine and taxied out to the end of runway 280. Following clearance from the tower he released the brakes and began moving forward, however he soon realised that the plane was struggling to achieve its takeoff speed. As it reached the end of the runway, and despite the pilot pushing the throttle to full power, the Spitfire was still not airborne. The plane was now bouncing across a strip of gravel and heading towards the airfield's boundary fence. In one last desperate effort Lt. Perry managed to forced the plane into the air at a speed that was only slightly above stalling. He then raised the undercarriage and pushed the propeller pitch control fully forward, but the plane still refused to climb or gain speed. A crash was inevitable and the Spitfire made a belly landing in a small meadow, about one mile west of the airfield just north of Balak farm, before crashing through hedges bordering a narrow track and sliding to a halt in a ploughed field. Once the plane had come to a rest Lt. Perry turned the magneto switches to off and quickly got out of the aircraft.
Ploughing in a field nearby was Miss Thora Barrett (now Mrs Thora Pitman) a Land Army girl employed by Mr Giddings who owned the Crowood estate near Ramsbury. She recalls: "I suddenly noticed several Americans in a Jeep bouncing across the field towards me. They stopped and asked if I'd seen a plane crash. I said yes, and started to tell them about the mid-air collision I had witnessed the previous day (see C-47 Witcha). 'No', 'No', they said, we're looking for a plane that crashed about five minutes ago. I had not seen or heard any aircraft that morning and told them so. They thanked me and clambered back into their Jeep. However, just before they drove off I noticed a fighter plane stuck in a hedge nearby and asked them if that was what they were looking for?"
The officers in the Jeep, Captain Connor and Lt. Davis, raced over to the Spitfire and were pleased to find Lt Perry safe and well. A few minutes later an ambulance arrived and, as a precaution, took Lt Perry to Membury's base hospital where he was checked over by a doctor.

The crash report concluded that the accident was due entirely to pilot error because no mechanical defects could be found with either the aircraft or its engine. Also the crash investigators discovered that the propeller had been incorrectly set in the fine, as opposed to course pitch position, at the time of takeoff.

The Spitfire was repaired and during March 1944 returned to RAF service, but was lost on operations four months later.
Below: Spitfire AD247 looking rather sorry for itself following a wheels up landing on 1st December 1943 in a ploughed field near Marridge Hill.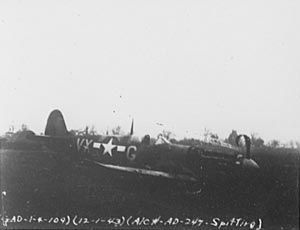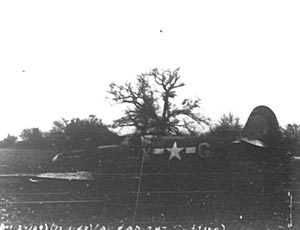 © Copyright 2004 Roger Day