C-109 tanker 44-49248, 84th Sqd, 437th TCG, US 9th Air Force
Ramsbury airfield
1st January 1945.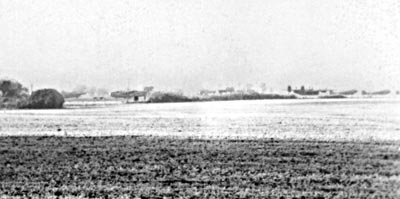 Above: It's just possible, if you study the picture very carefully, to see three C-109 tankers parked near the south-eastern edge of Ramsbury airfield. This enlargement is from a photograph taken in January 1945 by Mr G. Theorin.
Below: Captain Jack Litton standing near a C109 tanker at Ramsbury (Larry Campbell via Neil Stevens)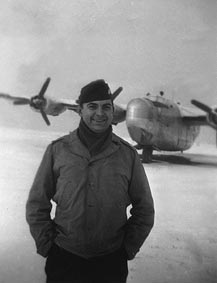 Towards the end of 1944, four C-109 tankers (converted B-24 Liberator bombers) were received by the 437th TCG at Ramsbury. The group's four squadrons were each given a tanker and pilots were selected to fly and operate these huge and unpopular aircraft. Flying instructors from the US Eighth Air Force were sent to Ramsbury to convert the pilots onto the C-109.
On New Years Day 1945 a crew from the 84th TCS was being instructed by 1st Lt. Gerard S. Chaplin. The plane had been up for about an hour and was coming in to land on runway 260. There was a light crosswind blowing from the northwest and the first 800 feet of the runway was occupied by C-47s and CG4A gliders, parked in readiness for takeoff. This meant that the plane touched down about 1000 feet from the runway's threshold . The pilot at the controls, Captain Jack Litton, touched down correctly and as soon as the front wheel made contact he applied the brakes. Unfortunately the plane did not slow down as expected and started to skid to the right. Corrective measures were taken but these caused the aircraft to slide off the left hand side of the runway. Its left wing passed over a parked steam roller, which had its roof structure torn apart by the propeller from No.1 engine. The plane eventually stopped just short of the perimeter track. None of the crew was injured and apart from the damage to No.1 engine, a dent in the left wing and a bent landing flap, all caused by hitting the parked steam roller, the plane was relatively intact.
Investigation of the runway showed it to be coated with a thin layer of ice and this in conjunction with poor handling of the aircraft caused the accident. Lt. Col. Albert E. Bivings, the investigating aircraft accident officer, concluded in his report that the instructor pilot 1st Lt. Chaplin used poor judgment in letting two pilots, inexperienced with the C-109 type of aircraft, land with him standing between them on the flight deck. In this position he could not correct any mistakes made during landing.
Crew details
Pilot instructor - 1st Lt. Gerard S. Chaplin
Pilot - Captain Jack W. Litton Jr.
Co-pilot - Captain Forrest C. Fisher
Radio Operator - Sgt. Albert J. Steiner
Engineer - Cpl. Jack F. Anderson

© Copyright 2004 Roger Day