C-47 Skytrain - 42-93508, 325th Ferrying Squadron, 31st Transport Group, US 9th Air Force
Whitehill Copse, Ramsbury
22nd December 1944

On the foggy evening of 22nd December 1944 the above aircraft, piloted by 1st Lt. Benjamin A. Taylor, was returning to England following a freight mission to the continent. Its home station, Grove near Wantage, was closed in and the pilot had been advised to divert to Exeter, Devon. En route he crossed Ramsbury airfield and saw lights on the ground. He radioed Ramsbury control tower for instructions stating that he had insufficient fuel to reach Exeter safely. The tower told him to land on runway 26 and fired flares from the active runway as requested by the pilot. Lt. Taylor made several attempts to land but on his final approach the left wing tip hit some trees in Whitehill copse causing the plane to crash into the woodland. Sadly the pilot, co-pilot and crew chief were killed instantly. The radio operator and assistant crew chief survived but were seriously injured.
Crew Details:
Pilot - 1st Lt. Benjamin A. Taylor
Co-pilot - P/O Willard Leutenegger
Crew Chief - T/Sgt. John J. Vojcik
Assistant Crew Chief - Daniel V.B. Riley
Radio Operator - Charles A. Kdlak

I have recently been in contact with Don Bolce who in 1944 was a radio operator with the 437th Troop Carrier Group based at Ramsbury. Don has vivid recollections of this aircraft's final moments, and with his kind permission they are reproduced below:
I was sleeping on my aeroplane the night that the ATC C-47 crashed while trying desperately to land in the fog at Ramsbury. In order to eliminate possible aircraft sabotage at night, the radio operator and the crew chief would take turns sleeping in the plane. I was in my sleeping bag on the floor, when I heard the sound of a C-47 flying in the heavy fog. I knew that it was much too foggy to land at Ramsbury, and thought that he would head for another airfield. Much to my surprise, he circled the field, and attempted to land in the near zero visibility. Suddenly, I could hear the engines at full throttle, as he pulled up to avoid crashing. Then, I couldn't believe what I was hearing. He was circling the field and was going to try it again. I realised then that he must be desperate to land as quickly as possible - maybe there were wounded on board - or maybe he was about to run out of gas. In any event, I realised that my aeroplane was just about invisible in the heavy fog and imagined the explosion that would occur if he plowed into it. Pretty soon I heard his engines at full throttle again as he pulled up to try one more time to land at Ramsbury. I don't know how many times he tried to land, but on the final attempt, I suddenly heard a terrific crash. The sound was not a loud "bang", but was a very loud "whoomppff", like the sound of crushing a large metal container. I lay there in the dark, with tears in my eyes. I was sure that all on board that C-47 were killed in their desperate attempt to get back on the ground. I had no idea who the guys were, but I prayed for those fellow airmen who lost their lives that night. © 2002 Don Bolce
On field control duties that same night was Cpl. Gerald Theis and these are his memories of that evenings tragic events: "I was standing near the control tower. Up on the tower's balcony was my colleague Sgt. Charles Steffens. It was one of the thickest fogs I have ever experienced and every conceivable means of illuminating runway 260 was in use including, electric lights, 'goose neck' lamps and big oil flares. I was using a mortar to fire parachute signal flares as quickly as I could into the night sky. In addition other men were shooting coloured signal rockets. On the plane's third attempt at landing, and during a brief lull in activities, I heard Sgt. Steffens, who was in radio contact with the C-47 say, 'I can hear your engines' then all went quiet, the aircraft had hit trees just short of the runway."
Below: Cpl. Theis and several of his colleagues pictured at Ramsbury during the summer of 1944.
Clockwise from back left: PFC. Andrew Kaminski, Cpl. Richard Fabiand, Cpl. Gerald Theis and Sgt. Charles Steffens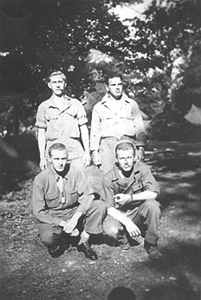 Whilst researching crash sites in the Ramsbury area I have heard many wonderful and interesting stories, but what follows is the most amazing and spine chilling account received thus far. It was sent by Mike Leutenegger whose uncle, P/O Willard Leutenegger, was co-piloting the above C-47 and tragically lost his life in the accident. Mike wrote: 'On the night he died the entire family was visiting Willard's parents. That evening the blackboard he played with as a child fell down the stairs and into the basement. It was an impossible thing to happen. Willard's mother immediately said, "Something has happened to Willard." They weren't notified of his death until January 1945, but the night the blackboard fell was the night the plane crashed!'
Below: The remains of C-47 42-93508 after colliding with trees in Whitehill Copse near Ramsbury.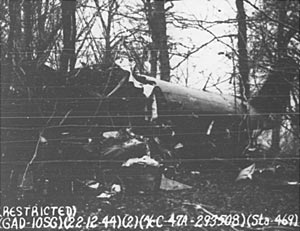 © Copyright 2004 Roger Day