P-47D-15 'Thunderbolt' 42-75822. 390th Fighter Squadron, 366th Fighter Group,cUS 9th Air Force
Baydon
14th February 1944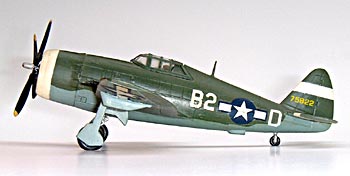 Model of P-47D-15 serial number 42-75822. The original aircraft was built by Republic at Farmingdale, New York, and was fitted with the metal-framed sliding cockpit canopy, and in this configuration was universally referred to as the 'razorback'.
The weather on the afternoon of St. Valentine's Day 1944 was poor with limited ceiling and visibility. At approximately 15:00 hrs three P-47 'Thunderbolts' from 'D' Flight, 390th Fighter Squadron, 366th Fighter Group took off from Membury on a routine training navigation mission. The group was flying in 'string' formation (one behind each other ) but during the first leg of their sortie the weather deteriorated further and 1st Lt. Walter C. Fraser, flight commander, ordered a return to base. At about 15:20 hrs, when the group was approximately three miles from Membury, 1st Lt. Fraser made a simulated attack on an imaginary target of opportunity located on the side of a hill near the small Wiltshire village of Baydon. Before the attack the fighters had circled the area about three times and had been joined by 1st Lt. Thomas G. Webb from the 78th Troop Carrier Squadron, 435th Troop Carrier Group, who was in the area testing a new C-47A
.
The formation of three P-47s dived towards their imaginary target and the first two aircraft successful completed the manoeuvre. However the pilot of the third plane, 2nd Lt. Joseph R. McCurdy, had misjudge his height and the tip of his left hand wing made contact with the ground leaving a swathe, not unlike the furrow of a plough, across the hill side. The aircraft exploded and was completely destroyed, the wreckage being strewn over an area of 150x40 yards. Sadly, Lt. McCurdy was killed instantly upon impact.
Both the surviving Thunderbolts returned to Membury, as did the C-47 of Lt. Webb, where they filed reports of the incident.

Working in a field on the western edge of Baydon, just north of Ermin Street was Alf Exell and he watched in a mixture of horror and amazement as the following event unfolded before him: "Several of us were working together in a field just north of the Swindon road when all of a sudden these American fighters, which we later learned were Thunderbolts, arrived from the direction of Russley Park. They flew across our field at an extremely low altitude, in fact the last plane was so low that I believe it flew under the telegraph wires which ran along the southern edge of the field parallel to Ermin Street almost hitting a grove of beech trees know as Black Gate. This plane then banked slightly to its left and its wing tip dug into the field, causing the Thunderbolt to crash."

Although the aircraft was totally destroyed, the crash investigators stated in their report that mechanical failure was unlikely to be the cause of the accident and therefore blamed the pilot for an error of judgement.
© Copyright 2004 Roger Day