The Night of Sunday 1st September / Monday 2nd September 1940
Emergency Landing Ground, Shefford Woodlands
The weather on this late summer's day had been fine and warm. During the daylight hours enemy activity had been concentrated in the East Kent corner of England. By night three main raids, consisting of about 100 aircraft operating singly, took place in the Kent, Bristol Channel and south Wales areas of Britain. During the early hours of Monday morning (incident reported at 0102hrs) eight high explosive (small) bombs were dropped on the emergency landing ground at Great Shefford. No damage resulted although a farmhouse 350 yards away, belonging to Mr Henry Wilson, was shaken. The German aircraft may well have been a Heinkel He 111. The landing ground was about one and a half miles south of Great Shefford, just slightly west of the village of Shefford Woodlands. The field was bounded on its southern and eastern sides by Ermin Street and the A338 respectively. It was first used in August 1940 but no buildings were ever constructed and the site was quickly returned to agricultural use following the war's end.
Below: This small piece of shrapnel was found by a local resident shortly after the incident and was kindly given to me by Mrs Dawn Tonge in August 2002.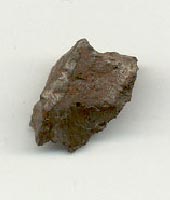 Below: Remarkably, in September 2002 in a field about half-a-mile north-west of Shefford Woodlands six white chalk marks could be clearly seen in the freshly cultivated soil, marking the exact points where the bombs dropped 62 years ago.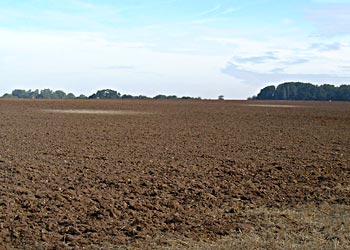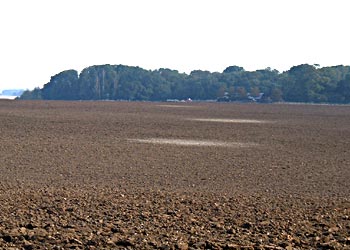 © Copyright 2004 Roger Day