Vickers Wellington III, RAF
Eastridge, Ramsbury
Date of crash unknown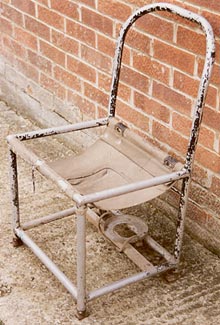 The Wellington Bomber Navigator's seat shown in the above photograph was given to me by Mrs Betty Phillips from Hungerford. She found it whilst clearing out her mother's garden shed. The seat had been 'acquired' during the war by Betty's father, who had taken it from a Wellington bomber which crash landed near their home at Eastridge.

Unfortunately I have been unable to trace any official records of a Wellington crash in the Eastridge area. However I do have an eyewitness account: Mr John Starling, then a young man of about 16, remembers being in Littlecote Park one bright sunny afternoon (Unfortunately he can't remember the year) when he saw a Wellington bomber circling overhead. On its second circuit it lost altitude rapidly and John realised that it was going to crash. It belly landed in a field to the north of the A419 road about 1/4 mile east of Knighton farm house. It eventually came to a halt close to Upper Dwarf Brake. John remembers how dust and debris were thrown up as it slid across the field. He quickly made his way to the crash scene. However when he arrived the RAF were already there, having arrived by lorry, and had placed guards around the plane. The aircraft appeared to be fairly intact and all the crew were safe.

After hearing of the crash Ronald Liddiard, then a young school boy, cycled from Chilton Foliat to view the aircraft (possibly the same day). Like John he also recalls how complete the plane appeared and that RAF guards had sealed off the area, which prevented him getting a good look at the wrecked bomber.

Bill Flippance and Ivor Gore, both from Knighton farm, put 40 gallon drums under the wings to catch petrol that was dripping from the aircraft's fuel tanks.
The canvas seat and Aldis lamp storage ring are both marked with serial numbers. The RAF Museum at Hendon has confirmed that these correspond to items found on Wellington IIIs.

A panoramic view of the crash site taken from near Littlecote Park Farm looking north-west. The dotted line represents the Wellington's path as it slid across the field, the 'X' indicating its final resting place.
Can any reader add more to this story or positively identify the aircraft?
© Copyright 2004 Roger Day