Aldbourne Stable Project
My interest | Aviation Archaeology | Ramsbury's Home Front | Ramsbury Airfield | Savernake Ammo Dump | Mystery Corner | 101st Artillery | The Great War
Membury airfield | Normandy - some places of interest | Links Page | Home Page | Obituaries | Recommended Reading | 101st Airborne Division
The last remaining stable, which once formed part of the Hightown stable yard in Aldbourne, has been moved by 'The Kennet Valley at War Trust'*
to a new home in the grounds of Littlecote House. During WWII the stables at Hightown were used as quarters by first 'A' and then 'E' Companies
of the US 506th Parachute Infantry Regiment (PIR). Restoration is now complete and the stable is open to the public.
A small permanent museum of 101st Airborne Division wartime memorabilia and photographs is on public view in the
Chaplin's room, which is located inside the house between the chapel and the display of Roman artifacts.
If any reader has items they would like to loan or donate please make contact Roger at: roger@kennetvalleyatwar.co.uk
*'The Kennet Valley at War Trust' team consists of Chairman - Roger Day, Secretary - Tim Green and Treasurer - Sam McCallum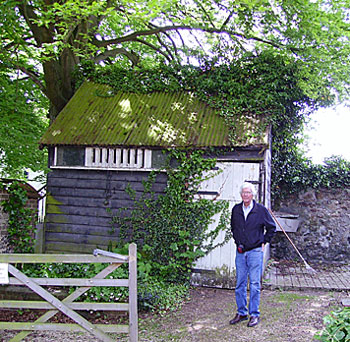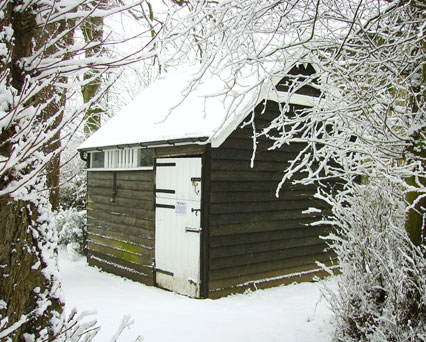 Above left: Ray Ward from the Toccoa/Stephens County Historical Society, Toccoa, Georgia, USA, pictured beside the Aldbourne stable at Hightown yard in June 2006.
The society has on display at its museum in Toccoa a six stall Aldbourne stable block that was moved from England to the USA in 2005.
Above right: The former Aldbourne stable pictured in February 2007 at its new location in the grounds of Littlecote House.
Below left: Littlecote House Hotel is owned by Warner Holidays and is situated 2 miles northwest of Hungerford, Berkshire.
The house was used by the 506th PIR as Regimental HQ throughout its entire time in England.
Below right: Two beautifully restored WWII Jeeps parked in front of Littlecote's main entrance.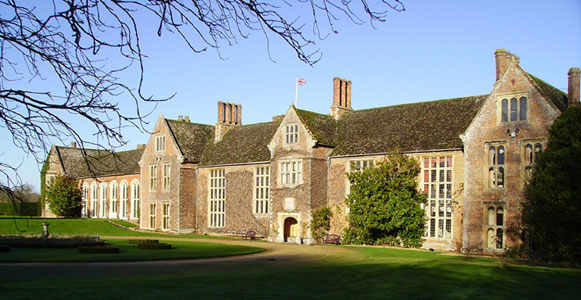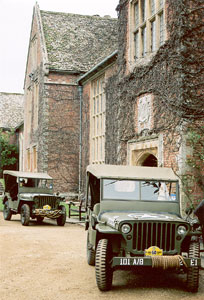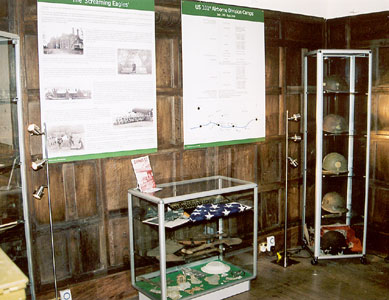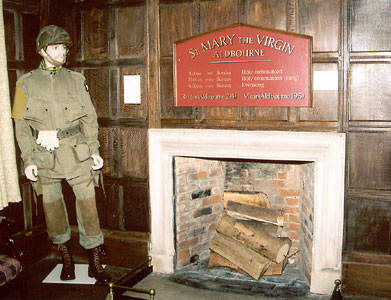 Above: Two views of 'The Kennet Valley at War Trust's' museum, which has recently opened to the public.
Below: Former paratrooper and 501st PIR veteran, Mr Ira Clyde Grube, kindly agreed to officially open both the museum and stable. On the left
he is pictured in the museum with his wife Jean (note his WWII picture in the cabinet behind) and on the right is about to cut the ceremonial ribbon.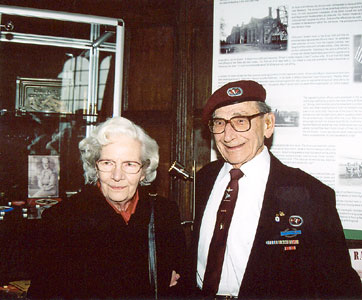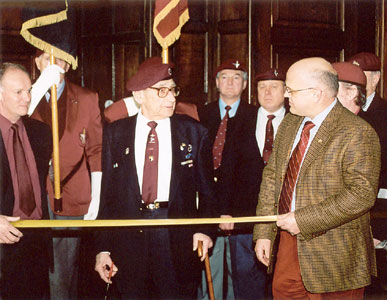 My interest | Aviation Archaeology | Ramsbury's Home Front | Ramsbury Airfield | Savernake Ammo Dump | Mystery Corner | 101st Artillery | The Great War
Membury airfield | Normandy - some places of interest | Links Page | Home Page | Obituaries | Recommended Reading | 101st Airborne Division

© Copyright 2014 Roger Day