Links Page
My interest | Aviation Archaeology | Ramsbury's Home Front | Ramsbury Airfield | 101st Airborne Division | Membury airfield | Savernake Ammo Dump Mystery Corner | Obituaries
Normandy - some places of interest | Home Page | Recommended Reading | Aldbourne Stable Project | 101st Artillery | The Great War

Links to other sites of interest:
101st506hrs
506th re-enactment group with a special interest in 'I' Company


A Dutch website dedicated to 101st Airborne Division history and re-enactment
Airbornecricket.com
For the first time since 1944 the ACME cricket is available again. Manufactured in the same Birmingham factory, on the same presses and using the same dies. If you are looking for authenticity you will not find better, these are exactly the same as the originals
Airborne Troop Carrier ETO 1944-45
This website is dedicated to the men of the Troop Carrier outfits who played a major role in the airborne operations executed in Europe 1944-1945 - an area often overlooked by modern historians.
Airfields and Aviation Memorials by Richard Flagg
A collection of modern day photographs of UK airfields and their memorials

Allies in War
An historical and educational website for the UK and her allies during WW1 and WW2
The Atterbury-Bakalar Air Museum
P reserving the history of aviation in Columbus, Indiana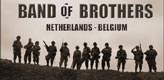 An interactive website allowing users to share historical information about E Company, 506th PIR
Bob Williams web site
Visit this 506th veteran's own personal web pages.
Carpetbagger Aviation Museum, Harrington
See how the Carpetbagger operation flew 'special forces' in to enemy occupied territory and delivered supplies to resistance groups.
DirectoryGenealogy.com
Genealogy directory, provide genus information and resources.
East Garston
A website devoted to this small Berkshire village.
Family Researcher
Jane can research your ancestors from any region of the UK, providing all available personal details for your family tree. Click the link for more details.

Follies and Monuments
A look at the many strange and wonderful follies built in Britain, 13 of which are in Wiltshire.

TONIGHT WE DIE AS MEN & THE FORGOTTEN BATTALION
In 1942 the US military formed a volunteer parachute infantry regiment. From thousands of men came 575 elite soldiers.
This is the story of the 3rd Battalion, 506th Parachute infantry Regiment, 101st Airborne Division - The famous Screaming Eagles

G-2 Associates
A new website from renowned WWII historian Christopher Anderson conducting leadership training, seminars and historical tours where the stage of history becomes the classroom for today.
HMVF - The Home for Historic Military Vehicles
The UK's 1st forum for Classic Military Vehicles - WW1 to the present day. Dedicated to those who made history and to those who preserve it.

Home Was Never Like This
The wartime diaries of Colonel Doyle R. Yardley who served with the 2nd Battalion, 503rd PIR during WW2

Ivan Mehosky - The story of a Soldier
A site created by Ivan telling of his father's career in the US military from 1940 - 1971.
His father Edward was an officer in the 506th Parachute Infantry Regiment, 101st Airborne Division.
Ken Tarbox Digital Photography
A personal collection of photographs taken by Ken Tarbox including Shalbourne Gliding, Italy, Switzerland, Star Wars Exhibition and Shuttleworth.
Kennet Valley at War Trust
The Trust's aim is to educate and inform people about the history of the Kennet Valley during the Second World War.
Lambourn Valley Railway
A detailed illustrated history of this long forgotten Great Western branch line
"The Liberator"
Johan Willaert's collection of US WW2 artifacts.
Mark Bando's 101st Airborne Division site
An excellent site which should be visited by all those with an interest in this great American division.
Marlborough web pages
A comprehensive look at the market town of Marlborough, Wiltshire.
'The Midnight Watch' Web Site
Everything you need to know about Britain's Home Front during World War Two.
Militaria Bastogne
We primarily focus on WW2 military items and collectibles of the Allied armies. We focus of the Allied armies to keep the memory alive of the offer the Allied troops made to provide us with our freedom. We want to keep this memory alive for future generations.
Military Vehicle Trust
Britain's premier website for military vehicle owners.
Essex Branch of the Military Vehicle Trust
The Essex Branch, based in Chelmsford, has a membership of over a hundred people who between them own over two hundred vehicles.
Museum of Berkshire Aviation
Berkshire's dynamic contribution to aviation history is graphically recaptured at this museum.
Northern Ireland Aviation Archaeology Team
An interesting record of aircraft incidents in Northen Ireland
Panzermuseum.com
A virtual tour of the Panzermuseum Munster, plus actual documents from the captured German War Records collection of the U.S. National Archives.

RAF Greenham Common
A detailed look at the former airbase at Greenham Common, near Newbury.
Ramsbury Community Pages
If there is anything happening around Ramsbury you will read about it here first.
Ridgeway Military and Aviation Research Group
The RMARG website covering military and aviation related subjects in the Berkshire, Oxfordshire and Wiltshire areas.
Ron Morley's Aldbourne site
Contains some great wartime pictures of this Wiltshire village.

The Screaming Eagle Website
The homepage of the 101st Airborne Division Association.
USAAF Troop Carrier site
This site contains excerpts from the book, Into The Valley, the untold story of USAAF Troop Carrier in WWII, by the late Col. Charles H. Young,
who was the CO of the 439th TCG. The web site is run by Charles D. Young, son of Col. Charles H. Young.
Vulcan 558 Club
The primary membership-based supporter's organisation behind the project to return Avro Vulcan B2 XH558 to display flight status.

My interest | Aviation Archaeology | Ramsbury's Home Front | Ramsbury Airfield | 101st Airborne Division | Membury airfield | Savernake Ammo Dump Mystery Corner | Obituaries
Normandy - some places of interest | Home Page | Recommended Reading | Aldbourne Stable Project | 101st Artillery | The Great War
© Copyright 2014 Roger Day